I'm back again with a super easy DIY natural whipped coconut oil that you can use for your skin and hair. I've decided to do a series of spa/skin care/beauty related DIY natural products that you can easily make at home on a budget!
This week it's just coconut oil that you can whip up and use to apply to your skin and hair. Everyone knows coconut oil is amazing for your skin and hair and I'm sure a lot of you use it on a weekly basis one way or another.
But, the most annoying thing to me is coconut oil in my home is usually located in the kitchen, because we often use it in baking and cooking (for good reason, because I LOVE coconut everything). But, because it's usually located in the kitchen, it means it's in that big tub that it comes in. So when you want to use it for your hair or skin, it means getting a spoon and taking out a bit of the coconut oil by digging your arm way into the container (which also involves getting oil on your arms and clothes), before finally putting it into a bowl to heat up a little bit. Because, usually the coconut oil is so hard, it needs to be softened enough to put onto your hair and skin. This whole process I go through every week when I want to put coconut oil onto my hair and it's super annoying!! All for just getting a little bit of coconut oil into my skin.
But, not anymore! Because when you whip up coconut oil, you can keep it in a little container in your washroom and it's the perfect consistency for using as a lotion for your skin and perfect for applying to your scalp!
And all you literally do is whip it up using a Kitchen Aid (or something similar) and put some drops of essential oils and place the contents into a glass jar! Easy peasy!
And all you do is soak up the benefits. I particularly love coconut oil for its benefits for hair, especially for promoting hair growth and preventing breakage. It also helps with fighting against dandruff and adds softness and shine to the hair. It is a winner for hair growth and I love the smell of it!!
But, coconut oil also has many benefits to the skin, including being an excellent moisturizer, but I'm sure most of you knew that. Coconut oil is solid at room temperature, but as soon as you apply it to your skin, it melts right in, without leaving any clumps. You can apply it to your arms and legs as well as your face! The one interesting property I learned as I was researching coconut oil, is that it has antimicrobial properties. This is because coconut oil is composed of lauric acid (a fatty chain that makes up 85% of coconut oil) that acts as the antibacterial agent. And finally, coconut oil has an SPF of 4, which isn't much at all, but applying coconut oil everyday can provide some sun protection. Coconut oil is an antioxidant that soaks up the free radicals that the UV rays of the sun trigger, preventing further DNA damage.
Coconut oil is a hair and skin winner!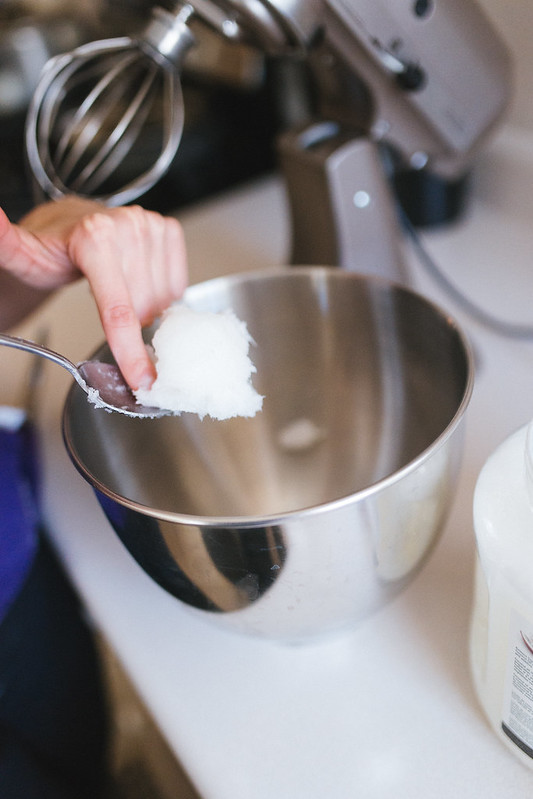 INGREDIENTS
1 cup coconut oil (food grade)
3-5 tsp of essential oil of choice (I like citrus-y ones)
DIRECTIONS
Scoop out 1 cup of room temperature coconut oil (should be solid).
Add your essential oil of choice and whip up using the whip attachment of your Kitchen Aid (or whatever else you use to whip things at home).
Whip for at least one minute, until softened and fluffy.
Place in a clean, glass container to enjoy.